Providing insight into Next Level Escapes, the world of escape rooms and other nifty games and puzzles.
Expect monthly updates, the latest contests and deals, and receive a glimpse inside the world of escape rooms.
Benches, benchmarks, leaving no marks, mark of who we are

Benches: Lockers have been benched
Our lockers were a temporary solution to ensure your valuables were secure. They were tall, narrow and most purses were too big to fit. We have installed some new benches to provide additional seating that double as secure storage. Once we open our next room, the Puzzle, we have some top-secret plans for increasing the size of our waiting room…

Benchmarks: If you like us, then like us!
Our social media presence is small, but growing. We post our exit photos and contests on Facebook and Instagram. Instagram also lets you peek behind the scenes.
Other escape rooms have been around for over 3 years and have thousands of followers. Help us get to 1,000 Facebook likes and beyond! We would love for more escape room enthusiasts to come and try our rooms.
Leaving no marks: No brute force
When we play our video before each escape, we let you know that our puzzles require brain power, not muscle power. Brute force means the puzzle has not been solved just yet. If a puzzle is broken, both your and the next group may have a hard time escaping and it will not be as fun. Sure there are many ways to defeat a locking mechanism, including breaking down a door or going through a window. We hope that you can enjoy the puzzles as we have designed them for you.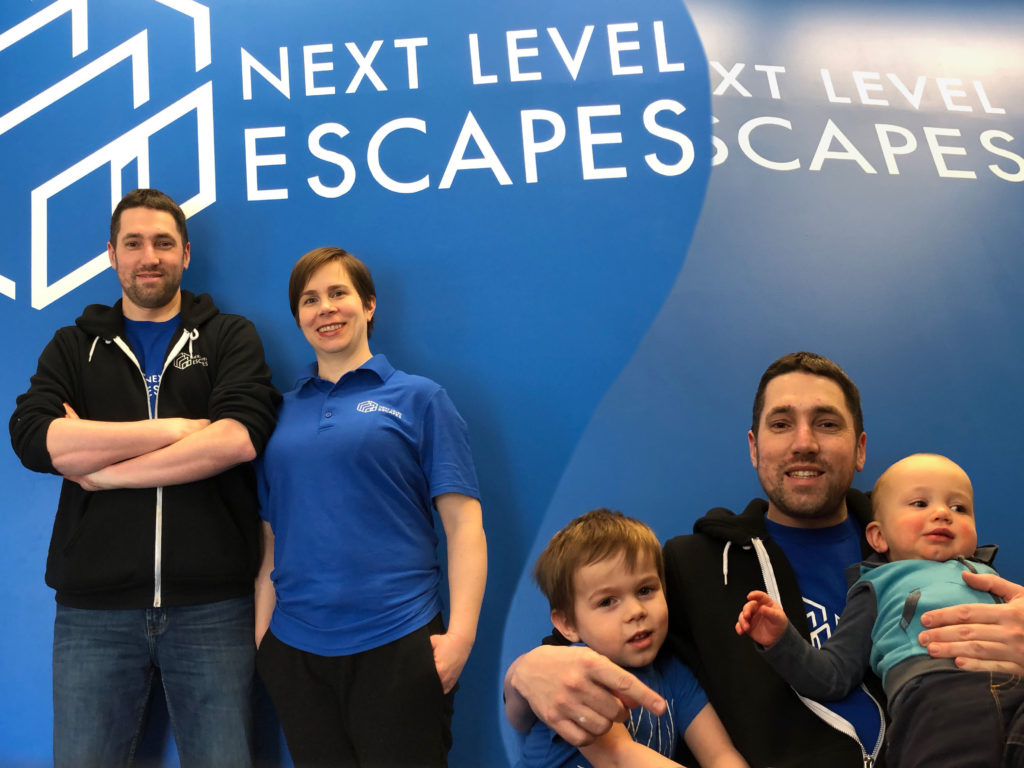 Mark of who we are
Locally owned, operated, designed and built. We are Daniel Gravenor and Meghan Pesclovitch, both born and raised in Winnipeg. We have two sons, Tryphon and Edwin. We started Next Level Escapes in the spring of 2017 and gained access to our space on June 1, 2017. After a few months of renovations, and spending countless hours designing and building the props, gameplay and atmosphere, we opened the Saloon on September 22, 2017.
Daniel Gravenor is the co-owner of Next Level Escapes in Winnipeg, Manitoba, Canada. He builds props by hand and enjoys designing and playing escape rooms.